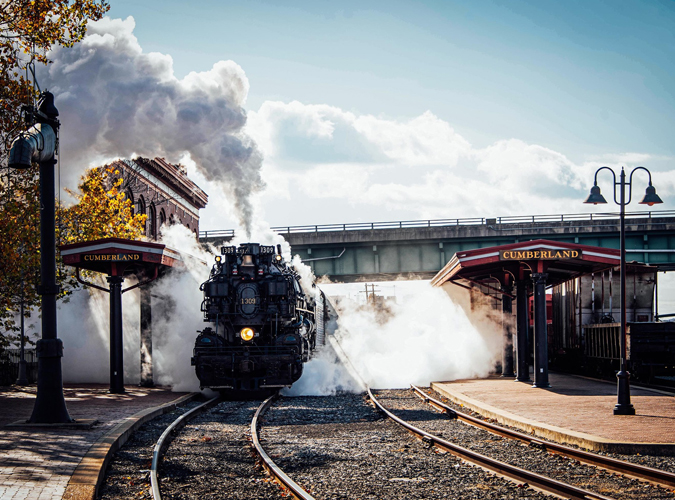 Entertainment & Museums & Scenic Railroad
Stroll historic and picturesque Downtown Cumberland and you'll discover a spectrum of arts, history and entertainment all within walking distance. It's a one-stop location full of live performances, visual arts and a calendar full of events. Enjoy a ride on the rails, Downtown Cumberland is home to the Western Maryland Scenic Railroad.
---
Allegany Allied Arts, Inc.
101 Decatur Street
David Rorabaugh, President
Phone: 371-274-4517
Email: [email protected]
Web: www.alleganyalliedarts.org
Facebook: www.facebook.com/alleganyalliedarts
Arts event production and promotion. The AAA is the producer of annual Queen City Film Festival.
Allegany Arts Council 
9 North Centre Street
Julie Westendorff, Executive Director
Gallery Hours:Tuesday-Saturday, 11 am-5 pm
Phone: 301-777-ARTS (2787)
Email: [email protected]
Web: www.alleganyartscouncil.org
Facebook: The Allegany Arts Council
The Allegany Arts Council promotes awareness, appreciation, and engagement in the arts; supports local artists and art organizations; and promotes well-being and economic development through the arts.
Allegany County Library System
31 Washington Street
John Taube, Executive Director
Ashley Swinford, Director of Marketing and Outreach
Phone: 301-777-1200
Fax: 301-777-7299
Email: aswinford@alleganycountylibrary.info
Web: www.alleganycountylibrary.info 
Facebook: www.facebook.com/alleganycountylibrary
We have something for everyone! Stop by any of our six locations to enjoy our books, movies, and public computers and internet, as well as fun and educational programs and events.
Allegany Museum, Inc.
3 Pershing Street
Vic Rezendes, Board Member
Phone: 301-777-7200
Email: [email protected]
Web: www.alleganymuseum.org
Facebook: Allegany Museum
Allegany Museum inspires people to discover the Allegany County region's unique heritage and contribution to our Nation's development. We strive to be a national destination for heritage tourism and enrich the intellectual, cultural and economic life of the communities in our region through our collection, preservation, exhibition, and education programs.
Cumberland Cultural Foundation/ C. William Gilchrist Museum of the Arts
10 Washington Street
Cristina Freas, President
Phone: 301-724-5800
Email: [email protected]
Web: www.gilchristgallery.com
Facebook: www.facebook.com/gilchristgallery/
The purpose of the Cumberland Cultural Foundation through the Gilchrist Gallery and Museum is to provide a public venue for the display of special exhibitions, permanent collections and cultural performances. The organization is committed to maintain and restore the historical structure and grounds at 104 Washington Street, Cumberland, Maryland and provide visual and performing arts education to the community while contributing to economic and tourism development in the area.
Cumberland Theatre
101 N. Johnson Street
Kimberli Rowley, Artistic Director
Phone: 301-697-1381
Email: [email protected]
Web: www.cumberlandtheatre.com
Facebook: facebook.com/cumberlandtheatre
Western Maryland's only regional professional theatre presenting musicals, comedies and dramas throughout the year.
Embassy Theatre
49 Baltimore Street
Jerard Puckett, Executive Director
Phone: 240-362-7183
Email: [email protected]  or [email protected]
Web: www.embassytheatrecorp.org
Facebook: www.facebook.com/embassytheatrecumberland
Built in 1931, Embassy Theatre is a classic example of community theatres built across the country. We provide an eclectic schedule of live theatrical performances, children's shows and innovative entertainment. 

F. Brooke Whiting House/ACHS
632 Washington Street
Tours by appointment
Please call Phone: 301-777-8678
Email: [email protected]
Web: alleganycountyhistory.org
Facebook: Allegany County Historical Society
Tour a unique collection left behind by a world traveler- right here in the mountains of Allegany County!
Fore Axes
157 Baltimore Street, Third Floor
Andrea Beall, Partner
Hours: Wednesday - Thursday, 5 pm - 9 pm; Friday, 4 pm - 12 midnight; Saturday, 1 pm - 12 midnight; Sunday, 12:30 - 8 pm
Phone: 240-362-7744
Email: [email protected]
Web: www.ForeAxes.com
Facebook: https://www.facebook.com/foreaxes
Offering a wide variety of fun! Visit the premier, private axe-throwing and golf simulator experience lounge located in Downtown Cumberland. Fore Axes is the only facility in western Maryland that gives our guests private throwing lanes and golf bays packaged with 1-on-1 coaching before your reservation time begins.
Graphicus Atelier
47 Baltimore Street
Chayo Chevez, Owner
Hours: Thursday – Saturday, 10:30 am – 4:30 pm
Phone: 301-338-1864
Email: [email protected]
Art gallery and studio.
The Gordon-Roberts House/
The Allegany County Historical Society
218 Washington Street
Phone: 301-777-8678
Email: [email protected]
Web: alleganycountyhistory.org
Facebook: Allegany County Historical Society
Fostering a love of history and learning through historic house museums and special events.
Heritage Days Festival
Historic Washington Street and Downtown Cumberland
Allegany County Historical Society, Organizer
Gayle Griffith, Arts and Crafts Organizer
Phone: 301-722-0037 and  301-724-2450
Email: info@heritagedaysfestival.com
Web: www.heritagedaysfestival.com
Facebook: www.facebook.com/heritagedaysfestival
Celebrating its 53rd anniversary, Heritage Days is filled with history, arts, crafts, festival food, children's activities, and fun. Join us this year for Heritage Days, September 9-11, 2022.
Loft 129
129 Baltimore Street
Larry Jackson, Board Member
Phone: 301-268-3971
Email: [email protected]
Web: www.loft129.org
Facebook: facebook.com/loft129
Performing arts venue featuring a variety of concerts and acts.
Vietnam Veterans of America, Chapter 127
17 North Liberty Street
Bob Cook, President Barbara Smith: Office Manager
Hours: Monday – Friday, 8 am – 5 pm; Saturday & Sunday, Closed
Phone: 301-777-7001, 800-482-8337
Fax: 301-777-7041
Web: www.vietnamreflections.com
Museum and gift shop.
Western Maryland Scenic Railroad
13 Canal Street, 2nd Floor
Nikki Shields, Business Director
Hours: Monday - Friday, 9 am - 5 pm; Saturday/Sunday, 9 am - 5:30 pm
Phone: 301-759-4400
Email: [email protected]
Web: www.wmsr.com
Facebook: facebook.com/WMSRailroad
WMSR is a 501(c)3 not for profit organization with a focus on heritage railroading through restoration, education and experience.