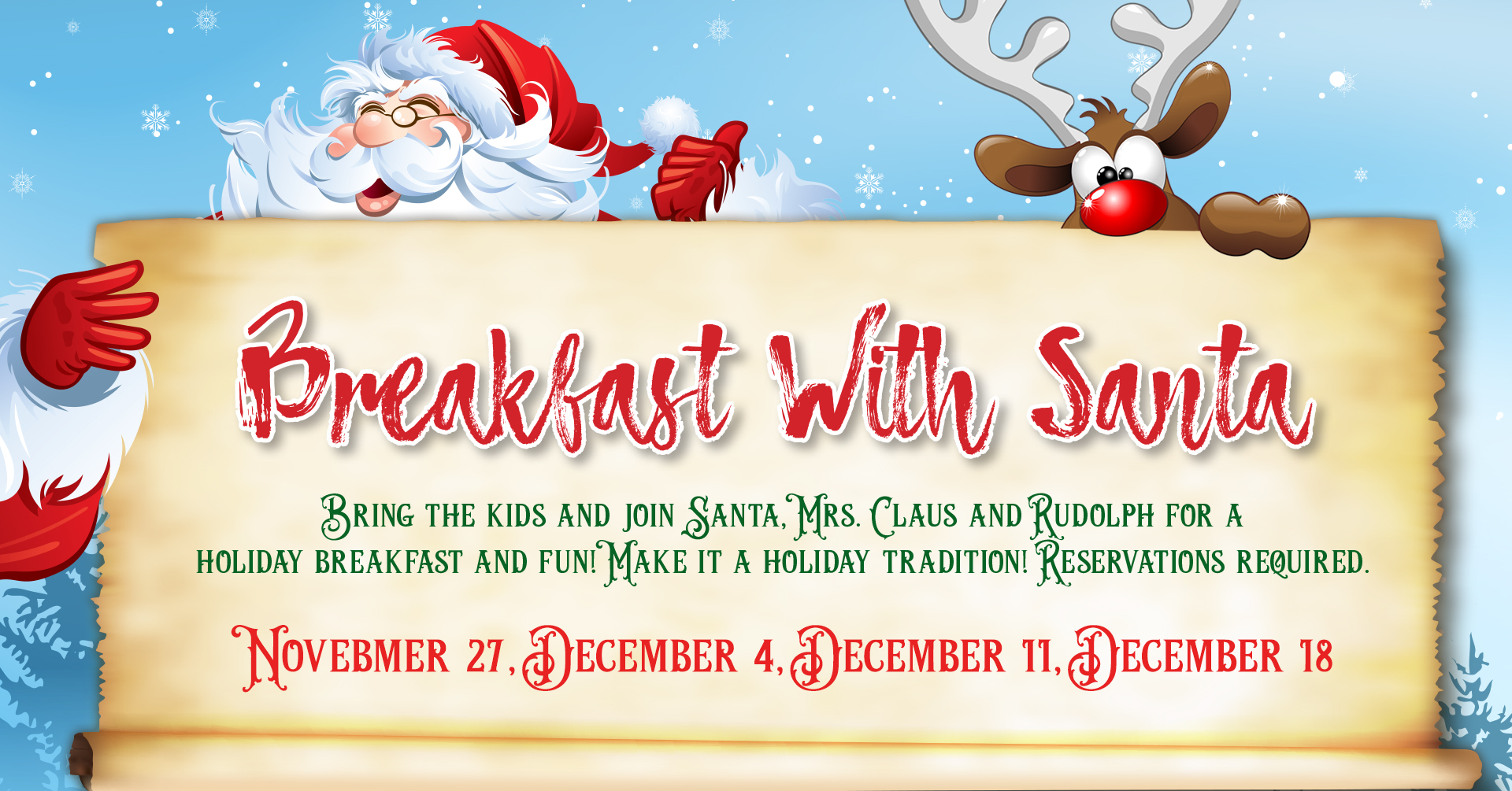 Bring the kids and join Santa, Mrs. Claus and Rudolph for a holiday breakfast and fun! Make it a holiday tradition! Reservations required.
Saturday, November 27
Mezzos
114 S. Centre Street • 301-777-7750
Two Seatings: 9:00AM, 10:45AM
Adults/$12  •  Children/$6
Scrambled Eggs • Pancakes
Home Fries • Sausage • Bacon
Orange Juice • Milk
Saturday, December 4
Culinaire Café Gateway Center
110-114 Baltimore Street • 301-784-5406
Three Seatings: 9:30AM, 10:45AM & 12:00PM
Adults/$12  •  Child Under 12/$6
Crème Brulee French Toast
Scrambled Eggs
Creamed Chipped Beef over Biscuits
Breakfast Potatoes
Sausage and Bacon
Fruit Medley • Assorted Muffins
Coffee/Tea/Milk/Juice
Hot Chocolate Bar
Saturday, December 11
Café Mark
37 Baltimore Street • 301-777-0037
Two Seatings: 8:30AM, 9:45AM
Each person will receive a complimentary cookie and cup of milk or eggnog.
Breakfast 37 • Café Deluxe'
Breakfast Sandwich • Breakfast Burrito
Scrambowl • Bagels
Chipped Beef or Sausage Gravy
Pancakes with Breakfast Meat
Honey Pecan Pancakes
Banana Chocolate Chip Pancakes
Blueberry Pancakes • Kids' Menu Available
Saturday, December 18
Queen City Creamery
108 Harrison Street • 301-777-0011
Three Seatings: 8:00AM, 9:15AM & 10:30AM
$6.50/Children; $10/Adults
Blueberry Pancakes
Cinnamon Sugar Pancakes
Plain Pancakes • Scrambled eggs
Bacon • Sausage • Apple cakes
Banana bread
Coffee • Juice