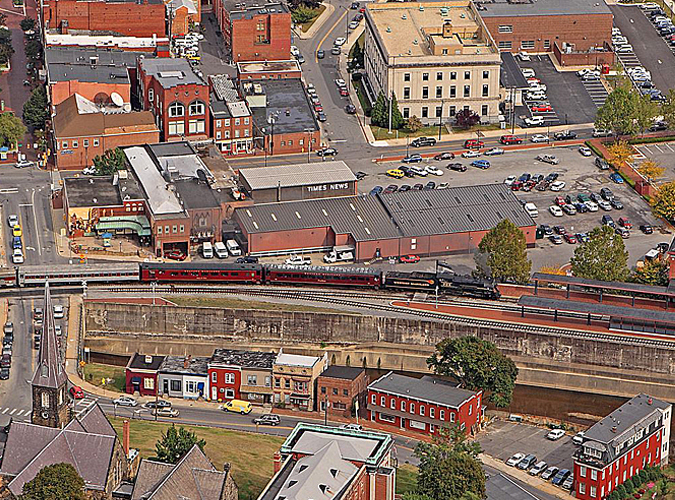 Miscellaneous Services
Whether you need financial, legal, accounting or any other professional services, DCBA membership includes several professional services, as well as, non-profit charity, business organizations, and government offices.
AHEC West
39 Baltimore Street, Suite 201
Susan Stewart, Executive Director
Phone: 301-777-9150
Email: susan.stewart@ahecwest.org
Web: www.ahecwest.org
Facebook: www.facebook.com/ahecwest
We are a nonprofit organization whose mission is to improve access to and promote quality in healthcare through education and collaboration. 

Allegany County Chamber of Commerce
24 Frederick Street
Juli McCoy, Executive Director
Hours: Monday – Thursday, 8 am – 5 pm; Friday, 8 am – 4 pm
Phone: 301-722-2820
Email: [email protected]
Web: www.alleganycountychamber.com
Facebook: facebook.com/alleganycountychamber
A business association of 350 members from sole proprietors to large corporations and nonprofits, offering programs and events to support local commerce.

Allegany County Library System
31 Washington Street
John Taube, Executive Director
Ashley Swinford, Director of Marketing and Outreach
Washington Street Library Hours
Monday & Tuesday - 1 to 8 pm; Wednesday & Thursday - 10 am to 5 pm
Phone: 301-777-1200
Fax: 301-777-7299
Email: [email protected]
Web: www.alleganycountylibrary.info
Facebook: Allegany County Library System
ACLS provides services, events, and resources to improve and enrich our vibrant community.
CASA of Western Maryland
138 Baltimore Street, Suite 202
Kathy Wood, Executive Director
Phone: 301-777-1262
Email: kathy@casaofwesternmaryland.org
Web: www.casaofwesternmaryland.org
Nonprofit 46-0647107. We are located in Allegany, Washington and Garrett Counties. Our mission is to make sure every youth in the foster care system has a safe home to live in. 
CBIZ, Inc.
44 Baltimore Street
Rhonda Robinson, Human Resource Director
Phone: 301-777-1500
Email:[email protected]
Web: www.cbiz.com
CBIZ delivers top-level financial and benefits and insurance services to organizations of all sizes, as well as individual clients, by providing national-caliber expertise combined with highly personalized service delivered at the local level.
City of Cumberland
57 N. Liberty Street
Ray Morriss, Mayor
Phone: 301- 722-2000
Email: ray.morriss@cumberlandmd.gov
Web: http://www.ci.cumberland.md.us
Facebook: City of Cumberland, Local Government
County United Way, Inc.
113A S. Centre Street
Michele Walker, Executive Director
Hours: Monday – Friday, 8 am – 4:30 pm
Phone: 301-722-2700
Email: [email protected]
Web: www.cuw.org 
Facebook: County United Way, Inc
County United Way improves lives through building community partnerships which identify needs and finds solutions that reusult in a stronger, healthier community.
Cumberland Economic Development Corporation
P.O. Box 2253, Cumberland, Maryland 21502
Matt Miller, Executive Director
Hours: Monday – Friday
Phone: 301-722-4173
Email: matt.miller@choosecumberland.org
Facebook: facebook.com/choosecumberland
Web: www.choosecumberland.org
City of Cumberland's Economic Development Agency.
Energy Select, LLC
119 Baltimore Street
Meggin Miller
Phone: 240-727-8931
Email: meggin@energyselectllc.com
Web: www.EnergySelectLLC.com
Facebook: https://www.facebook.com/EnergySelectllc
Energy Select is a full-service energy consultant and contractor. Solar panel installation for both residential and commercial customers, controlled and designed while considering your home or business's energy future. We specialize in looking at the whole picture to provide the best energy solution with a balanced effort of energy conservation and energy production. Serving Western Maryland and surrounding regions, and Southern Maryland.
H&S Development
9 North Centre Street
Doug Schwab, COO
Phone: 240-580-0403
Email: [email protected]
Web: www.9northcentre.com
Facebook: 9 North Centre
H&S Development has five apartments and two commercial saces at 9 N. Centre Street in Cumberland, MD.
Let's Beautify Cumberland! Committee
c/o  Ed Mullaney, 213 Fayette Street, Cumberland, MD 21502
Ed Mullaney, Co-Chair
Ginny Decker, Co-Chair
Hours: Meetings are held on the first Monday of every month at City Hall, 7 pm
Phone: 301-268-2135
Email: office@windsorcastleeventscentre.com
Web: www.ci.cumberland.md.us
Facebook: Lets Beautify Cumberland
Let's Beautify Cumberland! Is a volunteer-driven effort supported by the City of Cumberland to engage citizens in clean-up and beautification of the Queen City.
South Cumberland Business and Civic Association (SCBCA)
1015 Kent Avenue
Terri Hast, Vice President
Phone: 301-759-6517
Fax: 301-759-6432
Email: [email protected]
Facebook: South Cumberland Business & Civic Association
We meet monthly to identify challenges and problems within our community. We support change and improvement efforts; help resolve conflicts and learn of resources to make Cumberland a better place to live. We also hold the annual SCBCA 'Marsha L. Thomas' Halloween Parade.
ANIMALS
Allegany County Animal Shelter
716 Furnace Street
Tina Rosa, Executive Director
Hours: Monday – Friday, 9 am – 4 pm; Saturday, 9 am – 3 pm
Phone: 301-777-5930
Email: tina.rosa@ashelterofhope.com
Web: www.alleganyanimalshelter.org
Facebook: Allegany County Animal Shelter
Allegany County Animal Shelter Lost & Found
The Allegany County Animal Shelter serves as the municipal shelter for Allegany County, Maryland. A shelter of hope, the shelter serves as a safe haven for our homeless cats and dogs. ACAS was the first on-kill municipal shelter in the state of Maryland.