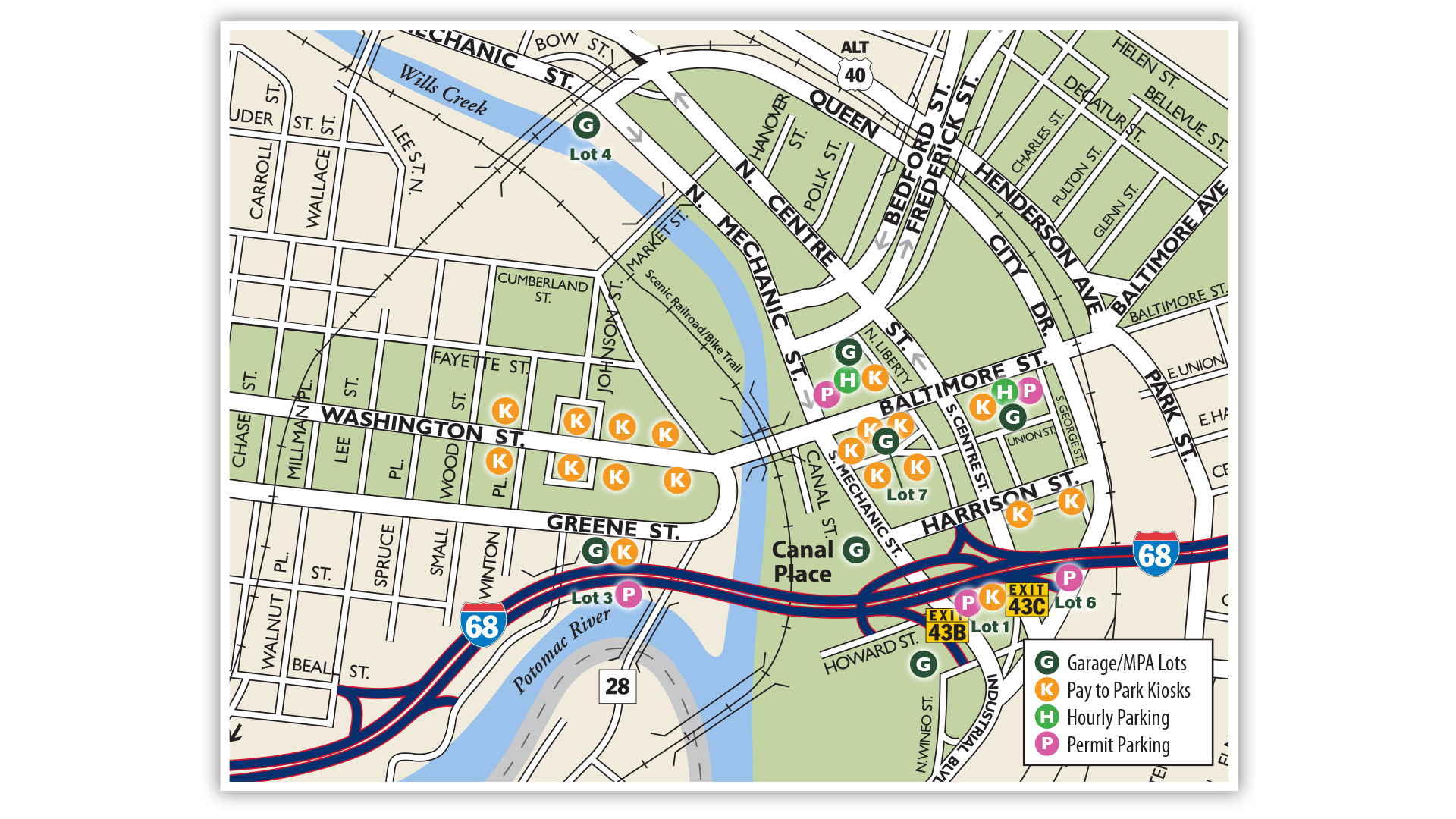 Parking in Downtown Cumberland
There are over 1500 public parking spaces in downtown Cumberland not including private lots and those at Canal Place. 
Parking Fees  
The Center City parking garage and Liberty Street surface parking are $1 per hour. All other metered parking is 50 cents per hour. All metered and Municipal Surface Parking lots are free weekdays after 5, on weekends, and on holidays. You can park overnight but will be ticketed if you don't pay by 8 a.m. 
Surface parking at Lot 6 under Interstate 68 is free 24/7 as is Lot 4 on Mechanic Street. There are numerous free time zone parking spaces throughout the downtown area. These are enforced during regular business hours. 
Parking Kiosks
There are kiosks at several locations replacing parking meters, accepting coins and credit cards. Display the receipt on your dashboard. 
City Center Parking Garage
Available 24/7 at $1 per hour with a maximum charge of $8 per day, credit card/debit card only. The entrance is on George Street with the exit onto Union Street. Monthly parking permits are available for $80 for first level entry and $55 for all other levels. Check out the City's murals on each level.
Frederick Street Parking Garage
Entirely by monthly permit at all times. – first level/$90; a tiered system of $75 and $55 for higher levels. 
Additional Lots
 • Lot 1 – Mechanic Street – Monthly permit parking only for $30
• Lot 3 – Greene Street – Monthly permit parking for $35
 • Canal Place Public Lots – The gated lot in front of the train station is available 24 hours a day. The first hour is free and every hour thereafter is $1. Credit cards only.
 • Gap Trail Overnight Parking – The lot next to the Footer Building on Howard Street is free all day with free overnight parking available for trail users. 
Parking Enforcement
An illegally parked vehicle may receive up to two courtesy warnings depending on the nature of the infraction. Following warnings, a fine of $25 may be imposed and after three unpaid citations, the vehicle will be towed and impounded until all fines are paid.
If a ticket is not paid or a court date is not requested within 30 days, there is an additional $30 fee. If the ticket is still unpaid after 60 days, there is an additional fee of $10 and the registration will be flagged with the MVA. Tickets should be paid by mailing to the Tax and Utility Office at City Hall or in person at the collection window on the first floor.